Have items that you cannot bring on-board? Just drop them into our Speedpost kiosks located at Changi Airport departure halls.
We deliver internationally and locally.
Do not dispose of it
Visit any Speedpost@Changi Kiosk located within the departure transit area and you can send your parcels in 3 simple steps.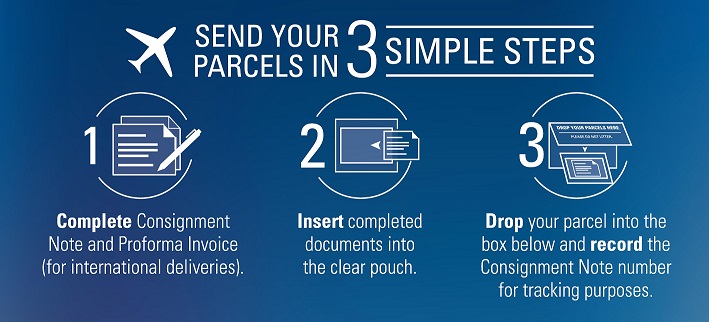 Deliver Items Overseas
Speedpost delivers to more than 220 countries and territories around the world right to your doorstep.
Deliver Items within Singapore
Send your items to any address within Singapore with Speedpost Delivery Services.
Track and Trace
Wherever your package is, you will be able to locate it anywhere in the world with our Track and Trace system.
FAQs
How long will my delivery take?
International Delivery: Estimated delivery within 2-8 working days to major cities.
Singapore Delivery: 2 - 3 working days**
How do I track my delivery?
Use our Track & Trace on website - Key in the consignment note number
Call our hotline (+65) 6222 5777 - Quote the consignment note number to our friendly service agents
*Delivery time quoted is estimated and to major cities only. All items may be subject to customs inspection which may require additional days.
**Delivery only available on working days, from Mon to Fri 9am to 6pm and Sat 9am to 1pm, excluding Sundays & Public Holidays.
Disclaimer:
Please provide accurate and complete information, and make full payment via a valid credit card. In the event SingPost is unable to deliver the article for any reason, SingPost will hold the article for up to 2 weeks from date of receipt, after which, SingPost reserves the right to dispose off the article at its own discretion.
The maximum value of each article shall not exceed SGD$1,000.
The maximum weight of each article shall not exceed 2 kilograms.
The maximum aggregate liability of SingPost for loss or damage of any one article is SGD$150 or the declared value of the article, whichever is lower.
In the event of discrepancies between the information contained in the Order Form and in the consignment, SingPost shall perform the services in accordance with the information contained in the consignment note. SingPost shall inform you accordingly of the discrepancy(ies).
Suitability of articles for carriage is to be determined by Certis CISCO officers at their sole discretion.